Bronx Lead Testing and Lead Inspection Services
Bronx Lead Paint Testing
We provide surface-by-surface lead testing and inspection to determine the presence of lead-based paint. Our advanced technology gives H&H Environmental the ability to produce and supply our clients with faster reporting - even within the same-day of the inspection.
Lead Poisoning is Preventable!
A lead risk assessment can determine whether or not your home or business environment contains lead hazards and whether you may require lead removal services.
A lead risk assessment from can H&H Environmental Construction and Consulting can determine whether or not your home, apartment, condominium or business environment contains lead hazards.
Lead Clearance Testing
Upon the completion of an abatement project, interim control intervention, or maintenance job that disturbs lead-based or suspected lead based paint, we can provide a lead clearance examination to ensure that lead exposure levels do not exceed standards established by the EPA TSCA 403.

Some Quick Facts About Lead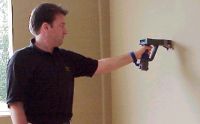 A number of common sources that can create or elevate an individual's exposure to lead. Dust inside a home or apartment may contain lead particles released from lead-painted surfaces. Lead-contaminated soil from the outside can be tracked in. Even drinking water may be contaminated from lead solder in the plumbing of pipes that contain lead.
According to the EPA, at least 19 million homes are estimated to have lead-based paint hazards. At least 4 million of those homes have young children under the age of six living in them!
Professional Bronx Lead Testing and Inspections
H&H Environmental Construction and Consulting provides certified Bronx Lead testing and inspections. We offer visual assessments, limited environmental samplings; including dust wipe samples, soil samples, and surface-by-surface lead paint testing. H&H Environmental can provide answers to all of your lead-related questions.
We provide lead inspections and lead testing services for the following Bronx locations:
Allerton, Baychester, Bedford Park, Belmont, Castle Hill, City Island, Clason Point, Concourse, Co-op City, Country Club, East Bronx, East Morrisania, East Tremont, Eastchester, Edenwald, Fieldston, Fordham, Fordham-Bedford, Harding Park, Highbridge, Hunts Point, Kingsbridge, Kingsbridge Heights, Locust Point, Longwood, Marble Hill, Melrose, Morris Heights, Morris Park, Morrisania, Mott Haven, North Bronx, North Riverdale, Norwood, Olinville, Parkchester, Pelham Bay, Pelham Gardens, Pelham Parkway, Port Morris, Riverdale, Silver Beach, Soundview, South Bronx, Spuyten Duyvil, The Hub, Throgs Neck, Tremont, University Heights, Van Cortlandt Village, Van Nest, Wakefield, West Bronx, West Farms, Williamsbridge, Woodlawn.
Serving the following Bronx zip codes:10451, 10452, 10453, 10454, 10455, 10456, 10457, 10458, 10459, 10460, 10461, 10462, 10463, 10464, 10465, 10466, 10467, 10468, 10469, 10470, 10471, 10472, 10473, 10474, 10475, 10499
We accept all major credit cards. Call us today at (888) 250-6653 to schedule a lead testing appointment.
Bronx Lead Testing | New York Lead Testing | Lead Inspections in Bronx