Manhattan Lead Testing and Lead Inspection Services
Lead Paint Testing
In addition to surface-by-surface lead testing and inspection to determine the presence of lead-based paint. Our advanced technology gives H&H the ability to produce and supply our clients with faster reporting - even within the same-day of the inspection.
Lead Paint Risk Assessment
A lead risk assessment from can H&H Environmental Construction and Consulting can determine whether or not your home, apartment, condominium or business environment contains lead hazards.
Lead Clearance Testing
Upon the completion of an abatement project, interim control intervention, or maintenance job that disturbs lead-based or suspected lead based paint, we can provide a lead clearance examination to ensure that lead exposure levels do not exceed standards established by the EPA TSCA 403.

Quick Facts About Lead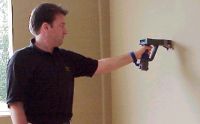 There are a number of sources that can cause exposure to lead. Indoor dust may contain lead particles released from lead-painted surfaces. Lead-contaminated soil from the outside can be tracked in. Even drinking water may be contaminated from lead solder in the plumbing or from old pipes that contain lead.
According to the EPA, at least 19 million homes are estimated to have lead-based paint hazards. At least 4 million of those homes have young children under the age of six living in them!
Professional Manhattan Lead Testing and Inspections
H&H Environmental Construction and Consulting provides certified Manhattan Lead testing and inspections. We provide visual assessments, limited environmental samplings; including dust wipe samples, soil samples, and surface-by-surface lead paint testing. H&H Environmental can provide answers to all of your lead-related questions.
We provide lead inspections and lead testing services for the following Manhattan locations:
Addisleigh Park, Arverne, Astoria, Astoria Heights, Auburndale, Baisley Park, Bay Terrace, Bayside, Bayswater, Beechhurst, Bellaire, Belle Harbor, Bellerose, Blissville, Bowery Bay Beach, Breezy Point, Briarwood, Broad Channel, Brookville, Cambria Heights, Cedar Manor, Clearview, College Point, Corona, Corona Heights, Cunningham Heights, Ditmars / Steinway, Douglas Manor, Douglaston, Douglaston Bay, Douglaston Hill, Douglaston Park, Dutch Kills, East Elmhurst, East Flushing, Edgemere, Electchester, Elmhurst, Far Rockaway, Floral Park, Flushing, Flushing Heights, Flushing South, Flushing Suburban, Forest Hills, Forest Hills Gardens, Fresh Meadows, Garden Bay, Glen Oaks, Glendale, Hamilton Beach, Hammels, Hillcrest, Hillcrest Estates, Hilltop Village, Hollis, Hollis Hills, Holliswood, Howard Beach, Howard Park, Hunters Point, Jackson Heights, Jamaica, Jamaica Estates, Jamaica Hills, Kew Gardens, Kew Gardens Hills, Laurelton, LeFrak City, Linden Hill, Lindenwood, Little Neck, Little Neck Park, Long Island City, Malba, Maspeth, Meadowmere, Middle Village, Morris Park, Murray Hill, Neponsit, New Howard Beach, New Hyde Park, North Corona, North Flushing, Oakland Gardens, Old Howard Beach, Ozone Park, Pomonok, Manhattan Village, Manhattanboro Hill, Manhattanbridge, Ramblersville, Ravenswood, Rego Park, Richmond Hill, Ridgewood, Robinwood, Rochdale, Rockaway Beach, Rockaway Park, Rockaway Point, Rockwood Park, Rosedale, Roxbury, Saint Albans, Seaside, Sommerville, South Jamaica, South Ozone Park, Springfield Gardens, Sunnyside, Sunnyside Gardens, Terrace Heights, Trainsmeadow, Tudor Village, Utopia, Westmoreland, Whitepot, Whitestone, Willets Point, Winchester Estates, Winfield, Woodhaven, Woodside. Serving the following Manhattan zip codes: 11001, 11004, 11005, 11040, 11101, 11102, 11103, 11104, 11105, 11106, 11109, 11120, 11351, 11352, 11354, 11355, 11356, 11357, 11358, 11359, 11360, 11361, 11362, 11363, 11364, 11365, 11366, 11367, 11368, 11369, 11370, 11371, 11372, 11373, 11374, 11375, 11377, 11378, 11379, 11380, 11381, 11385, 11386, 11390, 11405, 11411, 11412, 11413, 11414, 11415, 11416, 11417, 11418, 11419, 11420, 11421, 11422, 11423, 11424, 11425, 11426, 11427, 11428, 11429, 11430, 11431, 11432, 11433, 11434, 11435, 11436, 11439, 11451, 11499, 11690, 11691, 11692, 11693, 11694, 11695, 11697

Lead Poisoning is Completely Preventable!
A lead risk assessment from can H&H Environmental Construction and Consulting can determine whether or not your home or business environment contains lead hazards and whether you may require lead removal services.
We accept all major credit cards. Call us today at (888) 250-6653 to schedule a lead testing appointment.
Manhattan Lead Testing | New York Lead Testing | Lead Inspections in Manhattan